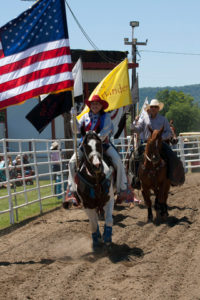 One does not usually consider the amount of talent the people who participate in rodeos actually have. After all, they do manage to turn a number of tricks with their horses, and the other livestock animals involved in the sport.
A lot of people are not aware that rodeo is an actual competitive sport. It first started in Spain and Mexico, among cattle herders, but it has become popular in North and South America, New Zealand and Australia. Nowadays, horses are the animals most involved with rodeos, even though other livestock animals are used.
The primary purpose of a rodeo is to test the ability and the strength of the cowboys and cowgirls who participate in the sport. The riders have to show a lot of skill, speed and control in order to win the sport. Professional rodeos involve events such as bareback riding, barrel racing, team roping, steer wrestling, etc.
There are two types of events in a rodeo- the timed ones and the rough stock ones. Timed events include roping (when the cowboy must throw a lasso around a horse, or cattle and tie it down), barrel racing (an obstacle race which the rider has to complete without knocking over the barrels), steer wrestling (when the cowboy jumps from a horse on to a cattle and brings it to the ground). Besides these games, there are some rough stock competitions, in which the cowboys and cowgirls have to hang on to a bucking horse, using a bronc rein that goes around the horse. This sport is known as bronc riding.
Rodeo sports and professional rodeos are controlled and governed by the PRCA (Professional Rodeo Cowboys Association) and WPRA (Women's Professional Rodeo Association). The associations face a lot of opposition from animal rights organizations, who believe that these games involve a lot of animal cruelty. Rodeo sporting is actually banned in United Kingdom, and Netherlands and many European countries have really strict restrictions on rodeo practices.